PR04 2023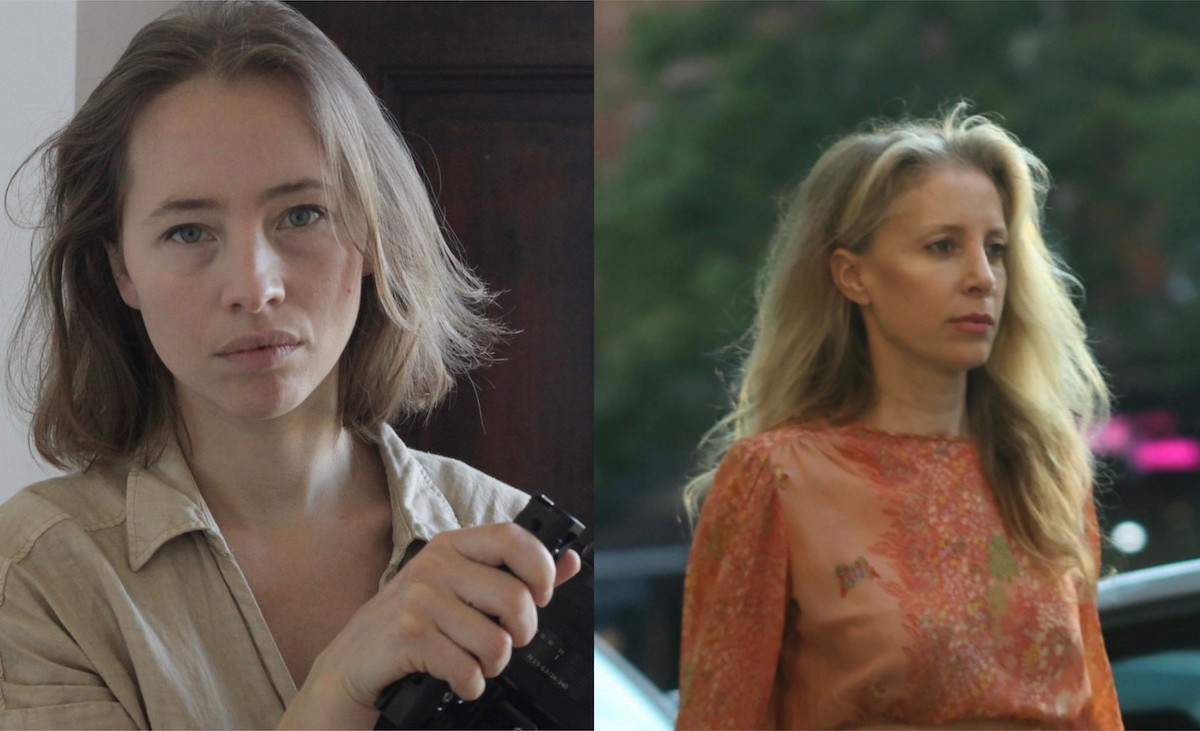 Visionary Women - Wild Child of French Cinema & Manhattan Maverick - honored with the 30th Anniversary Tribute Awards as Oldenburg announces final titles, and Oscar winners join 2023 Program dominated by World Premieres & First Feature Indie Debuts.
Oldenburg Honors Isild Le Besco and Jen Gatien with 2023 Tribute Awards
2023 Tribute Honorees
The Kingdom of Childhood - The Films of Isild Le Besco
»Exclusion from the kingdom of childhood is sometimes experienced as exile, sometimes as an unnatural gateway to a desirable maturity. Perhaps Demi-Tarif bypasses this alternative because of the young age of its director«, wrote Mia Hansen-Løve twenty years ago in her review of Isild Le Besco's directorial debut in Cahiers du Cinema. Looking at her first feature film, Hansen-Love already captured the core of Le Besco's uniqueness as a filmmaker. The instinct of this young filmmaker, who at the age of just 21 could already look back on an extraordinary career as an actress, her approach to the medium, which she does not use to tell stories but just captures them with her camera, revolves around this period of adolescence eternally. And because Hansen-Løve's suspicion that this magical difference in her narrative style could be traced back to the director's young age did not come true, we fortunately find this review of Le Besco's first film capturing the essence of her entire work in the most beautiful way: »Instinctively, Isild Le Besco also understands that one does not reveal childhood by seeking a chimeric inner world. Instead of treating it as content to be explored, she describes childhood in its relation to time. Because it is a specific experience of time, to talk about it runs the risk of explaining the secret of its unreasonably sweetness« (Mia Hansen-Løve, Cahiers du Cinema).
It seems as if the filmmaker Le Besco would not let anything get in her way, freeing herself from the dictates of time with her films - in cinema and in life. Her second feature »Charly« tells of the encounter of an adolescent boy on the run with the prostitute Charly, who is hardly older. When Charly reads from Wedekind's Spring Awakening in her small caravan, the two find moments of perfect symbiosis. The densification of the place makes it possible to overcome time.
Even as an actress, she brought an enigma to the screen with her acting and her appearance that persistently resisted any attempt at description. Benoît Jacquot, who discovered her when she was 17 and became her mentor, celebrated her as an »angelic being« and »a Chinese princess with blue eyes«. Cédric Kahn called her »unique, atypical, timeless« and Jean-Luc Godard, after seeing »Demi-Tarif«, invited her to join him in the ranks of the »solitary wolves«.
Her third feature film »Bas-Fonds« premiered in Locarno in 2010 and at the beginning of 2011 the Lincoln Film Society in New York dedicated a retrospective to her. The New York Times headlined »The Wild Child of French Cinema« and the young French filmmaker cemented her reputation as the most famous filmmaker of unknown films, a reference she used as a loving dedication to Chris Marker in the credits of »Charly« three years earlier. Much like Chris Marker's films, Isild Le Besco remains closely associated with essayistic storytelling. The form can only exist if it is undefinable. Since »Demi-Tarif«, her work as a filmmaker has revolved around this unconditional expression of a view of the world that is guided by nothing but her own gaze. The Kingdom of Childhood.
The flow of her narratives is so natural, one never believes in the existence of an underlying construction, one can never detach oneself from the narrative to realize the technical origin of the film. It is as if reason completely gives way to instinct and the beauty and fragility of her films tell of the beauty and fragility of life. Instinct is a driving force. If you manage to get into it, Isild le Besco's cinema reminds us of life, the moment, the sheer feeling. You're not in the cinema, you experience cinema.
Manhattan Maverick – the films of Jen Gatien
»Maverick«, that's one of those terms film critics like to use when talking about directors who buck the conventions of the industry. The term connotes a nearly mythical ideal: the filmmaker as an artist, doing things their own way and implementing their vision without compromise. A producer, on the other hand, is rarely called a maverick, since many cinephiles see them on the other side of the divide. In between art and commence, they are usually cast as the antagonist.
And it is arguably the case that most producers shy away from risk, and only a few see it as breeding ground from which their work can grow - and a minefield for artistic discovery. One thinks of the late Ed Pressman, who gave American cinema some of its greatest moments over the course of his long career, by launching and accompanying the journeys of such young and risky unknown filmmakers as Terence Malick, Brian de Palma, and Oliver Stone to worldwide fame. Or Christine Vachon, whose courageous projects back in the 90s were crucial to the foundation of the New Queer Cinema in the USA .
Jen Gatien has always put her love of cinema and the art of storytelling ahead of all reason and financial risk since beginning her career in the late noughties. And like a rare gem, she is the one in a new generation of independent producers whose work lives up to the »Maverick« label.
In 2007, when director Deborah Kampmeier cast 12-year-old Dakota Fanning for her film »Hounddog«, a scene involving her caused a scandal. The juxtaposition of media excitement about a very young, new Hollywood star and the issue of sexual violence against minors culminated in a heated controversy. A ban on the film was demanded, theatrical distribution hardly possible. As the producer, Jen Gatien sided with the director and the young star, defending the film's artistic and narrative autonomy. The importance of enabling a filmmaker to realize their vision and making the decision to do so, even against her own financial interests, was put to the test with this – her first - major film.
Her next project was artistically almost even more risky – giving free rein to the "enfant terrible" of American independent cinema, Abel Ferrara, with a film without a script and bringing stars like Dennis Hopper, Grace Jones and Ethan Hawke in front of the camera. The documentary about New York's legendary Chelsea Hotel became one of the most beautiful and sensitive films in the career of Ferrara - another New York legend himself.
From then on, Gatien has given impetus to American independent cinema with her projects whose stories always move on the fringes of society, nurturing new young talent both behind and in front of the camera. Pearls of soulful cinema have been created under her watch and wings. And stars were born. »Holy Rollers« gave young Jesse Eisenberg a breakout role. Paul Dano received critical raves for his role in »For Ellen«. Riley Keough shone in »Jack and Dianne«. And the debut feature of Xan Cassavetes, the daughter of John Cassavetes - the godfather of American independent cinema, premiered in Venice: »Kiss of the Damned«, an elegiac vampire film that returned the erotically charged genre to adult viewers in the teenage »Twilight« times.
Daughter of the iconic »Limelight« Club owner Peter Gatien, Jen grew up in the culturallly defining times of NYCs Nightlife artists and filmmakers. And survived its Giuliani-era gentrification. Her heart and core is Manhattan. Her distance from Hollywood only solidifies her inherent instinct for subjects that are firmly anchored in life - and in life on the fringes of society. In the tradition of producers like Pressman and Vachon, who also hail from New York, like the best auteurs, a common thread is revealed in their oeuvre – as Mavericks.
With entries from over 70 countries worldwide, and a record number of 13 World Premieres, Oscar winners join debut filmmakers as Oldenburg announces final titles and the 30th Anniversary 2023 Program is complete.
The Book of Solutions, France 2023, Michel Gondry (International Premiere)
From Cannes, where it had its World Premiere in Directors Fortnight, the first film in eight years from the prolific and Oscar-winning French filmmaker follows a man, an eccentric director, who tries to vanquish his demons, which are oppressing his creativity.
Maestra, USA 2023, Maggie Contreras (International Premiere)
In her debut feature (produced by 2023 Oscar-winner Melanie Miller, »Navalny«), which premiered at Tribeca, the director follows five international women as they prepare for and perform in »La Maestra« - the only competition in the world for female orchestra conductors. Personal stories of survival, passion and perseverance are woven together with the drama and excitement of this one-of-a-kind event created to break yet another glass ceiling for women.
In the Form of Love, Iran 2023, Siavash Asadi (World Premiere)
Set in the '50s in Iran, a mother and daughter trying to save their reputation find themselves seeking temporary refuge at the village estate of an estranged but trusted longtime friend, whose 14 year-old son loves cinema. As the adults navigate the real world, the teens lose their hearts to the world of film – and each other. Inspired by his childhood, when as a 10 year-old he would run away from school with friends to watch classic movies in the local cinema, Siavash Asadi delivers a declaration of love to the cinema of yesterday: an homage á la Cinema Paradiso.
Confinés, France, 2023 Isild Le Besco (World Premiere) *Tribute Honoree
The moment Emmanuel Macron announces the coronavirus lockdown in a video speech hits Zina and her siblings like a punch in the gut. They are not only torn from their usual everyday life, but they are now also prisoners of their father, who tends to break out in violence. Within claustrophobic tragedy, hope grows.
Geisterfahrt, Germany 2023, Christine Hartmann (World Premiere)
While Detective Liebig's 60th birthday party is in full swing, a delivery van plows into a crowd in the old town of Göttingen, leaving blood and chaos in the streets. With a top cast starring Maria Furtwängler and Florence Kasumba, Hartmann creates a thrilling cat-and- mouse chase in atmosphere full of subliminal violence and inhuman pressure
Charcoal, Argentina/Brazil 2022, Carolina Markowicz (German Premiere)
In her award-winning feature debut, a family straining to care for their bedridden patriarch is offered a diabolical deal: to put their elder to rest and host an Argentinian drug kingpin in need of a place to hide. A humane and haunting portrait of an inhumane world.
Heavier is the Sky, Brazil 2023, Petrus Cariry (International Premiere)
From the Brazilian auteur whose 'Trilogy of Death' garnered over 100 awards and nominations, comes a Road Movie: a poetic and brutal meditation on love, family, and life. After taking in an abandoned child, Teresa meets Antonio, and the two begin a journey on the roads. They share a past in common, which is the memories of a town submerged at the bottom of a dam. Life is a dream, but the future is dangerous. Winner of Best Director, Cinematography, Editor, and Special Jury Prize at its recent World Premiere at Gramado Film Festival, Cariry offers his latest masterful work.
From Dawn Till Noon On The Sea, Japan 2023, Takayuki Hayashi (World Premiere)
In the opening moments of his profound feature debut, a young Japanese teenager, dressed in her high school uniform, is seen tentatively walking through a tunnel that will lead her back to society. According to the local Radio, she had been kidnapped and held hostage for 49 days. But not physically touched by her captor. She is now an outcast amongst her peers, however. The kidnapping was not the prison – society is.
Behind The Haystacks, Greece 2022, Asimina Proedrou (German Premiere)
Financial need drives a farmer on Greece's northern border to get involved with the mafia: smuggling immigrants across a border lake connected to Macedonia. But when a disaster occurs and bodies wash ashore, he wants out - and his family of three must face the consequences of their involvement. Poised to be the 2024 Oscar Entry, it recently swept the 2023 Hellenic Film Academy Awards with 10 wins in all top categories (including Best Film, Best Director, Best Actress, Best Actor), and a record-breaking 17 nominations for her feature debut.
In the Blind Spot, Germany 2023, Ayşe Polat
Unfolding over three chapters, »In the Blind Spot« intertwines the threads of reality and the ethereal to convey the intricate tapestry of generational trauma and the ghostly presence that shadows the characters' every move, transmuting the narrative from political intrigue into a mesmerizing meditation on violence's enduring impact. With a masterful touch, director Ayşe Polat evokes emotions that linger long after the credits roll.
Enter The Clones Of Bruce, USA 2023, David Gregory (German Premiere)
In the early seventies, with just a handful of breathtaking martial arts films under his belt, Bruce Lee became the new icon of international action cinema. Only hours after his untimely death in 1973, film studios began to frantically hunt for a new star to succeed the martial arts king on the big screen. From a decision driven by commercial motives grew an army of Bruce Lee clones and an avalanche of fast, hard action films that soon created their own genre: Bruceploitation. For 50 years.
Mars Express, France 2023, Jérémie Périn
Acceptance of difference. Robots and Humans. Somewhere between the aesthetics of »Blade Runner«, the techno-philosophies of »Ghost In The Shell«, and the cautionary science fiction prophecies of Isaac Asimov, a fascinating film noir adventure about the dangers and possibilities of artificial intelligence unfolds - far removed from any generic apocalyptic horror scenario. In his stunning feature debut, Jérémie Périn animates a futuristic world and populates it with delightfully unique fleshed-out characters who feel and laugh – and who suffer and die. Robots. Humans. Life.
Shura: Sisters Of The Rope, Japan 2023, Tohjiro (World Premiere)
Two sisters struggle to overcome their traumatic pasts, in which their mother, a bondage model, committed suicide and their father, the rope artist, abandoned them. Akin to the soul of the intimate dramas of Ozu or the searing psychodramas of Bergman, a boldly transgressive cinematic journey, captivating in its narrative and liberating in the realization that beauty and catharsis can be found in many places.
2023 Statement from the Festival Director:
The Oldenburg International Film Festival stands in full solidarity with the WGA and SAG/AFTRA strikes. These are unprecedented, historic, & imperative times. We will do all to support. We have been championing unsupported voices & visions for 30 years.
Our upcoming 30th Anniversary Edition program has been in transition as we ensured that all films we program are in alliance of full support on the front lines of story-telling through the medium of film worldwide.
We will not support studios & streamers that diminish the value of the souls of cinema: its writers & actors. Without content, there is nothing.
Hence, within these delicate times, we have only invited films and filmmakers who stand strong representing works that prove & support the essence of artistry. Invaluable.
Torsten Neumann Festival Director
On the occasion of our 30th Anniversary, we are excited and honored to welcome the international filmmakers from over 15 countries to Oldenburg to present their works. And we thank the City of Oldenburg and our amazing top-class and longtime loyal Sponsors for their ongoing support of the Oldenburg International Film Festival – now regarded internationally as »One of the World's Leading Indie Film Fests« (Hollywood Reporter)
The 2023 Tribute Honorees, Isild Le Besco and Jen Getian, will be in attendance to present their films from September 13th – 17th.
For any further queries, please feel free to get in touch. The Oldenburg International Film Festival
Press Office Filmfest Oldenburg
Katrin Brinkmann/Clara Haus
presse@filmfest-oldenburg.de // +49 (0) 441 / 21706549
Vorverkauf:
Am Dienstag, den 29.08.2023, beginnt der Kartenvorverkauf auf der Filmfest-Website unter https://www.filmfest-oldenburg.de und im Festivalcenter am Markt 18. Dort lassen sich ebenfalls Dauerkarten erwerben. Ab dem 05.09. können auch Karten über unser neues Digitales Programmheft gekauft werden.
Weitere VVK Stellen sind:
Tourismus-Information, Lange Straße 3/ Kulturetage, Bahnhofstraße 11, sowie alle ADticket-VVK-Stellen und die Tickethotline (069) 902839 86*
back